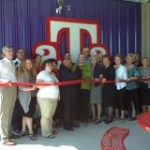 "It took four years to get to this point", commented aTa Bus Director, Anne Smith.  After the lengthy building process and construction, the aTa Bus facility open house and ribbon cutting took place Monday afternoon at two o'clock.  The facility address is 5815 Marlatt Avenue, near the Public Works site.
Since 1976, aTa bus's mission has been to provide safe, reliable and affordable public transportation.  This facility will service citizens in Manhattan, Junction CIty, Riley County, Pottawatomie County and Fort Riley.
Smith mentioned this building was a partnership with Federal Transit Administration (FTA), Kansas Department of Transportation (KDOT) and Riley County.
The design for the building was around $2 million, and bus stops and shelters totaled up to $22,000.  aTa Bus currently staffs 38 individuals, uses 16 vehicles and has provided over 500,000 miles of transportation during the past year.
Commission Chair, Dave Lewis shared a few words about the staff and the building, saying "I can't say enough about Anne's (Smith's) work".  Lewis added, "a great staff, a great board, which is a winning combination for all of us".
After the ribbon cutting, aTa bus employees were prepared to provide tours of the facility.