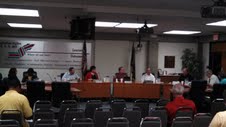 Budget discussions continued at Wednesday night's special Manhattan Ogden school board meeting as Lew Faust, Director of Business Services, presented four options for consideration.
Option one had a mill levy at 52.697, Option 2 was at 52.646, Option 3 was 52.596, and Option 4 was 52.444.
Though there was some agreement between board members, a set decision was put on hold as there will be more opportunity for discussion by the board.
The board also looked at more details concerning the approximate 33 acre land to be purchased within the district lines in Pottawatomie County.
This land has the possibility of having a new school built upon it.
The board accepted the contract.