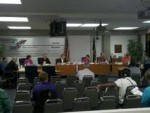 With a year of tragedy, the issue of safety is an important topic and the USD 383 school board spent some time during Wednesday's meeting talk about some of the emergencies that were faced here in Manhattan.
Among the mercury spills, the bomb threat, the lock downs, issues with strangers and parents and suspicious activity, the district had their work to do.
Michele Jones, Communications Coordinator and REMS Project Director, took some time talking to the board about how far they have come and still what needs to be done, even though funding is not necessarily available for it.
Jones brought visuals to give the board an idea of what they've done including numbers for the buildings, buckets for the teachers to keep for emergencies and other important items.
Though their was concern on what happens with substitute teachers, or if students are outside during a lock down  but Jones explained they have procedures.  In the case of being outside, they leave the area.
"They run away," Jones said.  "You don't want them to come in if someone bad is inside the building.  Why would you want to come in?  So, if you're out on the playground you go away and then you walk or run away to your evacuation point."
Though she hopes to never see anything like what happened at Sandy Hook here, Jones emphasized the importance of having emergency training and the relationships with emergency personnel the district has developed.
During the new business portion of the meeting, the board approved unanimously all issues.  These were the bond construction fund special procedures examination report, the special education record scanning system, elementary handbook adoption, the secondary handbook adoption, the licensed staff positions for the 2013-14 school year, the international student F1 visas, the iPad purchase for teachers, and the iPad carts for the schools.
The old business had a bit more opposition as the issue of the school starts and end times had a 5-1 vote, with Walt Pesaresi dissenting.
Sunday, May 19 will be the high school graduation at Bramlage Coliseum beginning at 2 pm and their next regular business meeting will be on Wednesday, June 5.