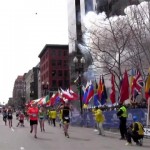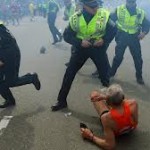 (Update)
Earlier reports of a third explosion at the John F. Kennedy Library in Boston have proven to be false. Reports say there was a fire in a mechanical room at the Library, there were no injuries.
As far as the marathon explosions, three individuals are reported dead, one of whom is an eight year old child. Around 130 wounded.
Cell phones had been disabled in downtown Boston to prevent remote detonations of explosions.
KMAN News has received word there were runners from Manhattan competing in the race. In fact, Erinn Barcomb-Peterson with Kansas State Communications tells KMAN her office knows of three students who finished before the bombs went off, mentioning Ryan Wiebe, Michael Just, and Paul Harris.
 KMAN news has obtained some information about two students, including Harris.  Harris is identified as a member of the Farmhouse Fraternity at Kansas State and reportedly finished one hour before the explosion. Lyndi Stucky,a junior in mass communications with Alpha Delta Pi completed the race about 45 minutes before the explosion. Sources indicate her parents watched her at the finish line and were in the location where the explosion occurred less than an hour later.
Former Kansas State Student Samuel Brinton tells KMAN he heard the two explosions, then screaming, and people were running by his home in a panic. Brinton, who is currently a graduate student at M-I-T  lives less than half a mile from the location of the explosions.
For anyone wishing to locate loved ones in Boston, call (617) 635-4500 or log onto  http://google.org/personfinder/2013-boston-explosions/

Tips can be left by calling 1-800-464-TIPS.
————
Our first report on the Explosions just moments after they happened….
Two explosions reported to have happened near the end of the Boston Marathon finish line occurred around 2:00 (central time) Monday afternoon.
Early reports indicate EMS are on the scene treating injured runners.
Headquarters are now locked down and KMAN will continue to bring you details as they become available.