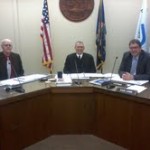 In January, changes were made within the Riley County Treasurer's office, as three employees took on additional duties.  Now, three months later, those employees are still carrying out those tasks.  For this reason, County Treasurer, Eileen King wishes to upgrade their positions to compensate for the extra work the clerk analysts have put in.
During Thursday's Riley County Commission meeting, King asked that commissioners approve moving the clerk analyst I positions to clerk analyst II positions.
Human Resource Manager, Cindy Volanti has worked with King on this agenda item.  Volanti said her concern is that if the promotions are approved, every other department will come to her for the same type of requests.  Although entire departments have been restructured during pay studies, Volanti said this had never been done for individuals positions.
Commission Chair, Robert Boyd seemed to have the same concern.  Even though this has never been done before, he did say he understands the point of promoting and rewarding hardworking employees for their work.  He also mentioned he did not believe the current rotation, of having a pay study done every five years, is long enough.
The commission unanimously approved this request for the three analysts in the treasurer's department, but asked that this topic be brought up during the next county official's luncheon.
——————–
Riley County could be going to a grand jury system in the future.  County Attorney, Barry Wilkerson shared this news with commissioners and said the goal of doing this is to be more efficient.
When there are several defendants in one case, witnesses must be called and evidence must be presented several times.  A grand jury would allow everything to be presented all at one time.
Wilkerson said this would cut down on the costs of having to pay travel fees for witnesses, and would save everyone a lot of time.  He did however indicate these discussions are still in the early stages right now.
———————
Assistant County Counselor, Craig Cox shared a letter to members of the Riley County Legislative Delegation that would unanimously oppose the passage of Senate Bill 298, which would repeal the mortgage registration fee.
The commission has been in strong opposition to the bill ever since it was introduced, and they all three approved to sign the letter.