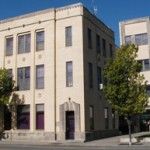 'Safety Edges' are used to prevent accidents that are caused by someone losing a vehicle wheel off the edge of the pavement.  Riley County Assistant Engineer, Gary Rosewicz explained how these are used during Thursday's county commission meeting.
The Federal Highway Administration has made these a priority in their safety programs, and they offered to participate in the purchase of these attachments at a 90/10 split.  This would cost the county around $1,000.
Commission Chair, Dave Lewis said the deal was a "no brainer" and the item was unanimously approved.
————-
The majority of the meeting featured routine staff updates and monthly reports.  Community Corrections Director, Shelly Williams shared details about a Pawnee Mental Health memorandum, which was approved by the commission.
Williams expressed her concerns regarding a recent physical altercation that took place when police were trying to make an arrest in the community corrections department.  The commission is looking into further security measures that can be taken, and Williams recommended having a system for her to report those incidents to the commission.  Although this incident was not severe, the commission agreed that they would like word of those issues.
————
Although the commission does not meet Monday (in observance of Veteran's Day), the commission intends to discuss concealed carry during their next Thursday meeting.