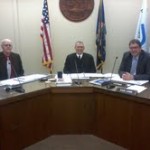 A short Riley County Commission meeting, with only two staff updates and an administrative work session, left plenty of time to discuss legislative concerns.
During the commission comments portion of Thursday's meeting, commissioners expressed concern with legislators.  Senate Bill 298, which involves the elimination of the mortgage registration fee, is on it's way to the floor.  For commissioners, this is particularly frustrating as they specifically went to Topeka to provide testimony against the bill.
Commission Chair, Robert Boyd commented "it's incredibly frustrating.  We have to find a better way to approach our legislators".  This comment was in reference to the fact that several counties provided testimony against the mortgage registration bill, as well as the fixtures bill, but legislators seem to have their "minds made up" before they hear any testimony.
Commissioners also discussed details about the public building commission.  Boyd will be speaking at the Chamber of Commerce Public Affairs meeting Friday, and will share information on the PBC, and what the commission hopes to accomplish if it is adopted.