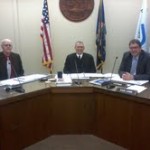 Primary Care Services were previously cut from the Riley County Health Department, and since that time-the question has been raised of where those services could be offered.  During Thursday's county commission meeting, one agenda item involved discussing whether Konza Prairie Community Health Center could partner with the health department for these services.
Konza's dental clinic is located the health department building, and could potentially expand it's services by providing health care in addition to dental.  Konza Prairie Community Health Center Executive Director, Lee Wolf was in attendance during the meeting to provide background and information regarding future plans.
Wolf said the process of adding the primary care services to the Konza center "should be a seamless transition".
The commission approved that Chair, Robert Boyd sign a temporary license to develop a comprehensive agreement before July 1st.
—————-
Another item was presented to the commission for approval during the meeting.  Human Resource Manager, Cindy Volanti informed the commission that the current software utilized for human resource services is requesting an update.
To modify the current system, it would cost around $10,000.  Information Technology Director, Robert Nall recommended looking for a newer system, rather than updating the old one.
After reviewing a few different companies, Volanti recommended the commission look into ADP Time and Labor, Payroll and Human Resourse System.  The cost for this system would be around $53,000.
Since the cost of getting a new system is much higher than an update, commissioners asked where their savings would be.  Volanti indicated there would be significant savings in time, as this new system would allow the department to be more efficient.
Commissioners approved the implementation of ADP unanimously.
——————
A Fairmont Heights Sewer Benefit District could be in the future.  A work session was held to discuss this concept.
Planning/Special Projects Director, Monty Wedel shared a map of the area and the commission provided input on who they think should be hooked on to the line if a district is formed.
The next step is for Wedel to send out letters to all of the potential benefit district members, and hold a meeting to discuss the idea.