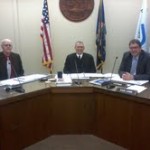 Riley County Fire crews responded to a few significant fires this past weekend, and one involved a large controlled burn that became out of control.  During Monday's county commission meeting, Fire Chief, Pat Collins shared the specifics.
Crews responded to Fairview Church Road around 12:30 on Friday for a 600 acre prescribed burn that had gotten away from the owner.  When firefighters arrived on scene, they found the 30 or more acres burning and the head fire moving quickly to the north.  It had extended to the neighbor's pasture, which had several cedar trees.
By the time the fire was under control, there were 16 big round bales lost, which is estimated to be a $2,000 loss.  33 firefighters with 18 apparatus had spend around 150 man-hours on the scene.  Crews were then called back later that night for a couple of hours and spent another six hours putting out rekindled areas.
A total of around 130 acres burned, on five properties that were not intended to burn.
—-
Easter afternoon, crews were paged to a structure fire on 11th street in Ogden.  When on scene, they found the back deck on fire and it had extended to the house.
The estimated damage, to the rental property, was around $10,000.  Although the cause of the fire is unknown at this time, Collins mentioned there were old cigarette butts under the rest of the deck, and careless smoking could possibly be the cause.
Crews cleared the scene two hours after they had responded.
————
Two items were approved during the meeting, pertaining to the Riley County Health Department.  Health Department Director, Brenda Nickel presented the first item, which regarded public information officer training and a proposed future PIO capacity for county public health.  This item was approved unanimously.
Child Care Facilitator/Manager, Jan Scheideman presented the second item, as she requested approval to permanently include Riley RIGHT Literacy Intern positions in the budget.  This item was also unanimously approved.
————-
Other agenda items included a project update from Assistant County Engineer, Gary Rosewicz and press conference upcoming events.