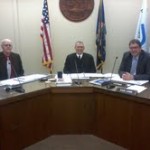 The cleaning and videoing of the University Park sewer lines has been completed, and BG consultants have reviewed the results.  Project Manager at BG Consultants, Sam Johnson presented an overview of what they found, during Monday's Riley County Commission meeting.
Johnson said they found 298 broken pipe conditions and 19 holes, among other problems.  He estimates 172 feet of sewer main point repairs will need to take place, as well as an additional 2,000 feet of open trench sewer main replacements.
He also recommended replacing sewer main sections, rehabilitation of sewer main sections, new connections to defective residential service taps (over 100 of them), and replacing man holes.
This project is expected to cost around $3,996,000.  With the USDA grant, of $1,798,000, it would bring the project price, to be financed, down to $2,198,000.  Johnson mentioned this would mean a $350-$450 per year payment for all of the lot owners in University Park.  All of the residents in attendance for the commission meeting seemed in support of the project.  They indicated some of the people that attended the most recent benefit district meeting seemed concerned about the payments, but all agreed the project needs to be done.
The next step  in this project would be to prepare a draft petition regarding the project, which would be brought back during a later commission meeting.