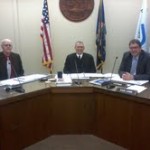 Riley County's Comprehensive Plan: Vision 2025, was presented to county commissioners during their Thursday meeting.  Planning and Special Projects Director, Monty Wedel shared the details of the plan, starting with the four goals:
Preserve productive agricultural lands
Promote development compatible with rural character
Respect the county's environment and natural resources
Provide appropriate areas for residential, commercial and industrial uses
The estimated population for Riley County in the year 2025, is 85,000 residents.  This is an increase of nearly 20,000 people.  87 percent of Riley County is cropland and grassland.
Various measures have been taken to ensure all of these goals are met: including agriculture protection easement plans and residential use designations.
Vision 2025 brochures can be found in the various county offices, and the K-State Research Extension office.  They can also be found online at rileycountyks.gov.
———————-
Public Works Director, Leon Hobson presented a connection request for University Park and Lakeside Heights Water and Sewer Districts.  This request would place the man's property in both districts, which Hobson mentioned has been done before.
According to Hobson, the man would pay for water line costs and the sewer would be expanded.
"I see no problem with having the property be in two separate districts for two different services", commented Assistant County Counselor, Craig Cox.
All of the commissioners came to a consensus that they saw no problem with the request.
The commission also came to a consensus that SMH Consultants would be selected for the three box culvert projects.
————————
County Extension Director, Jennifer Wilson provided an update on the ongoing process of finding a new 4-H Extension Agent.
She stated, 19 candidates applied for the position.  Those applications were narrowed down and there are four applicants that will be interviewed on November 5th.