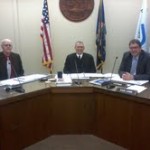 "This is not efficient stuff.  It's mind boggling we are wasting time with these things".
That was a quote from Riley County Commissioner, Robert Boyd during Monday's commission meeting, during the discussion about county purchasing cards.
Recent changes within the policies and procedures manual were approved by the commission, and Budget and Finance Officer, Johnette Shepek gave an update to the commission regarding those changes.
Shepek explained there are specific costs outlined within the manual for various meals, and alcohol is prohibited.
Commissioner, Robert Boyd did not agree with some of the details within the policy, and stated that Shepek should not be reviewing the specifics of the receipts.
Shepek stated these details are in place because some employees abuse the policy.  She gave examples, as some people like to fill out the meal allotment by giving a large tip.
Commission Chair, Dave Lewis said, "I'm fine with the procedure as it is.  I see no reason to change it."  Commissioner, Ron Wells  agreed with Lewis and commented, "I'm fine with it".
Both commissioners did however agree with Boyd on one part of the policy, as they agreed all of the prices were too low.
The commission approved the changes on a 2-1 vote, with Boyd opposing, but said they will revisit the meal prices after the first of the year.
————-
New Flint Hills Regional Council Director, Bill Clark gave his first presentation to the county commission in his new position.
Clark shared updates on projects, and expected future projects-including the welcome center that could possibly be placed on Exit 313.
————-
The Riley County Health Department Primary Care Clinic will no longer provide safety net primary care services as of November 1st.
The department has been unable to secure a mid-level provider on a full-time basis for medical and prescribing services since February of this year.
Department Director, Brenda Nickel shared this information with the commission, and mentioned notifications were mailed out that day.
————-
The meeting's press conference featured information on various upcoming events-including Halloween safety, a daylight savings time reminder, and breast cancer awareness information.