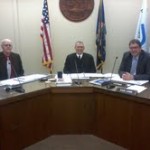 Preliminary numbers were reported to the Riley County Commission, during their Monday meeting, involving EMS calls on Fake Patty's Day.
Riley County EMS Director, Larry Couchman noted that the numbers are within midnight of the morning of Saturday, until seven o'clock Sunday morning.
During the 31 hour period of time, there were 45 total calls for service, which is down from last year's 64 calls.
Although the call volume was down, the Emergency Room patient numbers increased.  110 total patients were taken to the ER, while there were only 70 patients last year.  Only four patients were admitted to the hospital: one to the ICU, one to the step down from ICU, one to surgery, and one to the medical floor.
The highest blood alcohol level during the 2013 event was 333, and this year's number hit 343.  This is 425% higher than the legal limit of 80.
Couchman mentioned there were also two sexual assault related cases reported during Fake Patty's Day.
——————
One bid was submitted for the Casement ditch outfall structure bid opening.  Bettis Asphalt and Construction Incorporated, of Topeka, submitted a total bid of $334,189.01.
This was much higher than the engineer's estimate of $259,320.90.
The bid was approved to move forward for staff evaluation and recommendation.
——————-
A tentative date was set for the Public Building Commission Bylaws and Draft Resolution public meeting.  The commission chose the evening of Tuesday, April 29th to discuss this matter, and share information with the public.
The commission also expressed interest in adding a Saturday morning meeting date in the future as well.