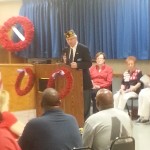 The memorial service originally scheduled to take place at Sunset Cemetery early this morning had to be moved to the American Legion Hall due to inclement weather. American Legion Post seventeen commander Harold Randa says the rain started just after they placed the flags at both sunrise and sunset cemeteries, something they do every memorial day, when the rain started. However, the bad weather could not stop those who wanted to come out and pay their respects to our fallen heroes.  Nearly one hundred people gathered in the hall to remember those service members who paid the ultimate price in the defense of our country.
Diana Chapel is a former army officer and current pastor of  the Ogden Friendship House United Methodist Church, and was the main speaker for the event. She says it is important for us to remember that it is important for us to remember the legacy that those who have fallen have left behind. That seem to have forgotten this and look at it as a time for when the pools open or to have a barbeque. A long line of heroes have kept this country free, and we should do whatever we can to remember this.
The ceremony started with the presentation of the colors by the American Legion Post seventeen color guard. An invocation was next, followed by the reading of the Gettysburg address and the address in Flanders Field. A speech by pastor Chapel was next, and then then tribute was paid to the fallen service members by laying wreaths in a series of tripods, each honored a specific group of service members. Finally, taps was played to end a very somber, but memorably ceremony.