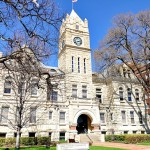 Witnesses continued to take the stand Wednesday morning during the Levertis Horne jury trial.  Horne is accused in a home invasion case, which resulted in a Kansas State University student being shot.
Officers and 911 dispatchers were questioned, including Riley County Police Officer, Rich Lewis.  Prosecuting State Attorney, Barry Disney began by asking Lewis questions about a cell phone used the night of the incident back in October of 2012.  The cell phone appeared to be that of Levertis Horne.  Disney asked Lewis about several screenshots of texts and calls Lewis had taken of the phone when he originally investigated this case.  Lewis read a few texts between Horne and a person listed in the phone as Lil Kim, to show the time of the last text received-which came in just six minutes before the incident.
After a short recess, Horne's Attorney, Brenda Jordan cross-examined Lewis.  She asked him questions regarding cell phone information from the other roommates and individuals that were present the night of the incident.
Chris Hunter was next to take the stand.  Hunter worked with Horne at Wal-Mart.  Disney asked Hunter about the night of the incident, as Hunger and Horne were scheduled to work that night until nine o'clock.  Hunger stated Horne told him he was leaving early, as his mother was in the hospital.  Hunger claimed Horne returned to work a few days later with a wound on his left cheek.
K-State Student, Marcus Buckley was called as a witness.  Prosecuting State Attorney, Kendra Lewison asked Buckley about the night of October 5th, just before midnight. Buckley stated Horne had a gash to his face when he arrived at Buckley's apartment.  Horne told him it was a result of being jumped.  Buckley helped Horne put salt and a rag on the wound, which Buckley believed helped stop the bleeding.