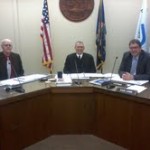 "I will not support a public building commision without an advisory board".
This was a statement made by Commissioner, Robert Boyd during Monday's Riley County Commission meeting.  Commissioners discussed the possibility of implementing an advisory board, if a public building commisison was ever formed.  All of the commissioners seemed to raise different points on the topic.
Although Commission Chair, Dave Lewis stated it could be beneficial if it was done in the right way, he commented it would be difficult to find people to be on it.  The public building commission, in itself, would be an "as needed" group, and Lewis said, "I think it could be hard to find people to serve in that capacity".
Commissioner, Robert Boyd disagreed and was in strong support of the advisory board topic.
Commissioner, Ron Wells seemed to agree with Lewis on the matter.
The commission was unable to reach a consensus on the issue. 
On the topic of the public's voice being taken away by forming a PBC-County Clerk, Rich Vargo commented, "The public building commission is not designed to avoid public input.  They still have a way to participate with the public building commission."  Vargo added, if there is strong opposition to a building project, the law states public opinion can come into play.
—————-
Limited downtown parking seems to be a frequent complaint made to commissioners.  Public Works Director, Leon Hobson brought forward the topic of the commission's parking lot.
The lot often has empty spaces, as you must have a parking permit in order to park in the lot.  The commission discussed several options and changes needing to made to the lot, including the removal of a nearby walnut tree.
The commission discussed allowing the lot to become open to the public, but eventually decided to first open the lot on a $20/month basis to county employees.  Hobson will send an email out to employees and see how it goes over.
Hobson will return to the commission at a later date, if the option is not well received, in order to discuss other options.