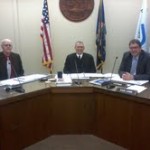 Back in February, Riley County Health Department Child Care Licensing Surveyor, Breva Spencer introduced the idea of a fee increase for child care providers.  During Monday's meeting, the item was revisited, as Spencer returned with additional information.
The board had asked that Spencer compare Riley County's fees to other similar counties, such as Reno, Saline and Leavenworth.  She reported Leavenworth is significantly higher,while Saline is comparable to Riley.  As far as Reno County, their fees are low, but they indicated they would like to look into a fee increase as well.
Spencer also spoke to child care providers to get input on the possible fee increases.  They all indicated they knew about the fee adjustments, and none of them indicated they would have a hardship due to the increase.
The commission unanimously approved a $30 fee increase across the board.  Fees will be bumped to the following prices starting July 1st:
license daycare home/group daycare home/school age drop-in programs-$65
child care centers and preschools-$105
school age programs-$80
resource and referral agency-$35
headstart-$105
——————
During the meeting's press conference, County Treasurer, Eileen King reminded individuals that all "B" tags are due by Monday, March 31st.