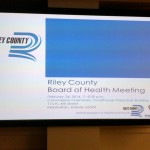 The first ever Riley County Board of Health meeting was conducted in the county offices Monday evening.  The goal of the meeting was to review the 2013 Health Department Annual report, and look at goals for the year.
Department Director, Brenda Nickel began with a word of welcome and reviewed the key points to look at within the annual report.  She shared the ten essential services the department provides everyday: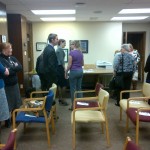 monitor, identify, and address health problems
research for new insights and innovations
evaluate and improve programs and interventions
diagnose and investigate
inform, educate and empower
assure a competent workforce
link to and provide care
mobilize community partnerships
develop policies and plans
enforce laws and regulations
Several board of health members shared information about their programs and services.
Three of these board of health meetings will take place every year, the next of which is expected to be scheduled for July and will involve budgetary discussions.