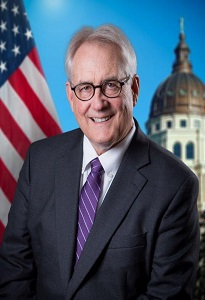 State Sen. Tom Hawk has clinched re-election in the 22nd District, which encompasses Riley, Clay and Geary counties.
Hawk edged out Republican Craig Bowser by 332 votes, holding a 51 to 49 to percent margin Tuesday night. The final was 14,573 votes for Hawk and 14,241 votes for Bowser.
"There is a victory and I guess you only have to win by one vote. There's still absentee ballots to come in and so we'll see what that does. Most of the time it remains a wash, but you never know. I'm going to remain humble," he said.
Hawk won with a greater margin in Riley County, with 55 percent of the vote. Bowser outpaced Hawk in Clay and Geary counties with about 70 percent of the vote in each county. Hawk, who has served in the State Senate since 2013, says he's looking forward to getting back to work in Topeka.
"I'm sure committed to working for the people of my district and Riley County. We're still in the pandemic and I want to keep plugging away, making sure we keep our economy going and keep the state budget balanced. That's where I put my energy and that's still my focus," he said.
Hawk says he was also pleased with the timely results of the election from Riley County Clerk Rich Vargo.
"I think we should be very thankful that we had the voter participation we had and the great process from all the volunteers who worked with that and the fact that Rich Vargo and his staff set that up in a very professional, efficient manner," he said.
Bowser, the Chief Executive Officer of the SAVE Farm, did not immediately respond to a request for comment.