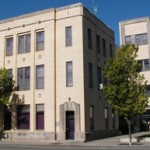 A total of five bids were submitted to the Riley County Commission for herbicides for the noxious weed department.  Commissioner, Dave Lewis opened each bid individually and read them aloud.
The five companies to submit bids were: Red River Specialties of Augusta, Van Diest Supply Company of Lindsborg, CPS of Castle Rock, CO, Helena Chemical Company of Shawnee, Sims Fertilizer and Chemical of Osborne.
Each company submitted bids for different herbicides, including 2, 4-D LV Ester and 2,4-D Amine.
All of the bids were approved for staff evaluation and recommendation.
———–
As Commission Chair, Robert Boyd was absent for the meeting, Vice Chair, Ron Wells stepped in to present the proclamation for March for Meals Month to the past Chair of the Riley County Council on Aging, Mary Jo Harbour.
The commission encourages every citizen to honor the senior citizen meal program during the month of March, as well as the volunteers and the people who care for the seniors.
———–
The meeting's press conference featured details on upcoming events-including Walk Kansas, Fake Patty's Day, and daylight savings time.
The commission will not meet on Thursday, March 6th, so their next meeting will be Monday, March 10th.