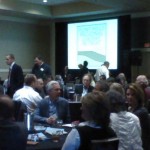 230 Manhattan/Junction City/Pottawatomie county leaders were in attendance for this year's Flint Hills Regional Leader's Retreat in Overland Park.  Manhattan Area Chamber of Commerce President, Lyle Butler began the retreat with a welcome speech.  Butler listed off the sponsors and introduced some of the individuals that helped to plan the event.
After last year's retreat, attendees filled out surveys and outlined topics they wanted to focus on for the 2014 event.  Some of the topics they felt were important to discuss included-K-99 Highway, the Fieldhouse project, a regional economic development district and target industries for recruitment.
Executive Director of the Flint Hills Regional Council, Bill Clark shared information about the regional council.  Emporia and Lyon County have just recently joined the council, and Clark said he expects it to expand further.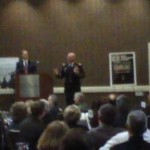 Regionalism and Fort Riley were the two main focal points of 1st Infantry Division Commanding General, Colonel Frank Muth's presentation.  Muth shared what local installations the army is dependent on.  When soldiers and families are reassigned, they look for housing and schools first.  For this reason, Muth focused largely on how to improve housing and schools.  The army's goal is to have 1/3 of solider families housed on post, and 2/3 housed off post.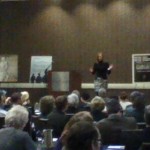 Economic Development Leader for Olsson and Associates, Courtney Dunbar was the featured facilitator for this year's event.  Community preparedness and planning was Dunbar's focus in her first presentation of the day.  She showed maps and picture of different sites and locations that Olsson and Associates have helped to assess and develop.  Dunbar used these as examples and shared how these needs have progressed.  Web sites, as well as technology, have played a key role in moving these services forward.
Development was broken into four phases-site diligence, planning, marketing, and development.  Dunbar zoned in on each phase and provided information about the importance of each one.
Regional Planner for the Flint Hills Regional Council, Jeff Adams spoke during a regional land use segment.  Adams titled his presentation "Land Analytics 2014".  Three keys, three key audiences, and two questions were all outlined within the powerpoint.
Large poster-sized pieces of paper and markers were distributed throughout the 23 tables.  Leaders were asked to come up with topics involving collaboration and how to improve it.  Some ideas they came up with were:
proximity to each other
share information easier
find a way to buy in on regional funding
improvement of current infrastructure
keep college graduates and military in the region
affordable housing
raise diversity of businesses
meet regionally more often
A regional transportation segment allowed three local transportation leaders to share their knowledge-Transportation Planner of the Metropolitan Planning Organization-Stephanie Watts, Manhattan Airport Director-Peter VanKuren, and Executive Director of the Flint Hills Area Transportation Agency-Anne Smith.
————–
Three final presentations were held Saturday morning to wrap up the leader's retreat.  "Harmonic Progression-Workforce/Target Industries" was the title of the first segment.  Regional Planner for the Flint Hills Regional Council, Jeff Adams and Economic Development Leader at Olsson Associates, Courtney Dunbar spoke about areas of production in the workforce.  Leaders were challenged with the task of brainstorming creative ways to prepare a workforce and how to grow it.  A few of those workforce ideas included:
facilitating entrepreneurial activity in the region
keep retirees as mentors and trainers
high school and tech college training programs
work with local businesses to understand current needs and market to our students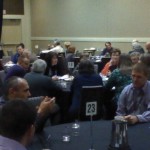 The major focus of this exercise was education, as almost every table mentioned it.  Manhattan Area Technical College President, Rob Edleston took the time to share the college's current situation.  He said it is great to hear everyone wanting to work with the college, but if things don't actually change-it could close.  Edleston shared statistics regarding student tuition rates, the reduction in students, and the major budget decreases.  Sponsors and donors often donate funding to universities, but Edleston said that needs to happen for the technical college as well.
Co-Principals of New Boston Creative Group, Lisa Sisley and Kristin Brighton presented the next session called "Strategic Regional Building".  The presentation touched on logos, campaigns, and brands.  Brighton used the K-State powercat as an example.  She mentioned half the world hated it at first, but it was so bold that it is now one of the most recognizable logos in the state.
Dunbar wrapped up the entire two-day conference with a retreat summary, alongside Junction City Area Chamber of Commerce President, Tom Weigand.  According to Manhattan Area Chamber of Commerce President, Lyle Butler all of the leaders in attendance will receive electronic surveys about this year's event.  After those results are in, planning will begin for the 2015 retreat.