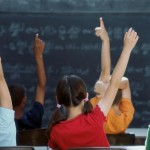 Education was the focus of the 1st Annual Legislative Dinner. About 100 were in attendance at Tuesday's Start of the Session Legislative Dinner held at the Jayhawk Tower in Topeka. The keynote speaker was former State Board of Education member, Dr. Walt Chappell. He outlined the top priorities of the 2014 Kansas Legislative Agenda.
According to Chappell, number one on the agenda is to define the State's responsibility for "suitable and adequate" education. Dr. Chappell said the definition of a suitable education is still not defined, but there is a real opportunity in this session.
Chappell adds number two is repealing the Common Core and Next Generation Science Standards. Dr. Chappell said this is a major issue all over the country. It was revealed there is a House Bill in committee to repeal both Common Core and Next Generation Standards.
Other speakers were Kansans Against Common Core Co-Founder, Kristen George, who travels the state educating parents and teachers about Common Core. She highlighted some of the facts about Common Core Curriculum Standards. She said Common Core is not a state led initiative. Common Core is just standards not curriculum. The student data (pre-school plus 20) and teacher data is being collected by the Federal Government and shared. And, the standards are benchmarked internationally. George said Common Core is designed to be a 'one-size fits all' curriculum, when in fact students learn differently.
Other speakers included Kansas Representative John Bradford and former Kansas Representative Darlene Cornfield, who both emphasized the importance of education in Kansas. The 2014 Legislative Session is just beginning, and they encourage the public to get involved. For more information, Dr. Walt Chappell can be contacted at educationalmanagers@cox.net and Kristen George's website is kansansagainstcommoncore.wordpress.com.