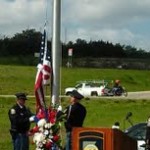 In front of the Riley County Law Enforcement Center on Friday morning, preparations were made for a ceremony to honor officers who now serve and who have lost their lives in the line of duty.In attendance during Friday's event were not only the officers of the Riley County Police department and it's staff, but representatives from the Kansas State University Police, Fort Riley, Junction City and others during the ceremony.
Positioned under the flag poles, Mayor John Matta took some time to speak, as did Riley County Commission Chair Dave Lewis.Director Brad Schoen also made a few remarks reflecting on the tragedies that have befallen neighboring areas, but also encouraging the officers to not see the community as an enemy, but as an ally.
At the end of the ceremony, the names were read of those individuals who are being memorialize on a plaque within the law enforcement center.These include Felix Boller, City Marshal, Ogden Police Department, shot while preventing an assault; Seldon Lard, Sheriff, Riley County Police Office, shot while make an arrest in Leonardville; Marion Ross, Officer, Manhattan Police Department, beaten in Manhattan City Park while investigating a loitering incident;  Cleo Crest,  Officer, Manhattan Police Department, killed in an automobile accident; John McMurray, Trooper, Kansas Highway Patrol, crushed between two vehicles on K-17 when struck from behind by a drunk driver; and Donald Harbour, Officer, Riley County Police Department, shot while investigating an attempt to sell a stolen gun in a pawn shop in Ogden.