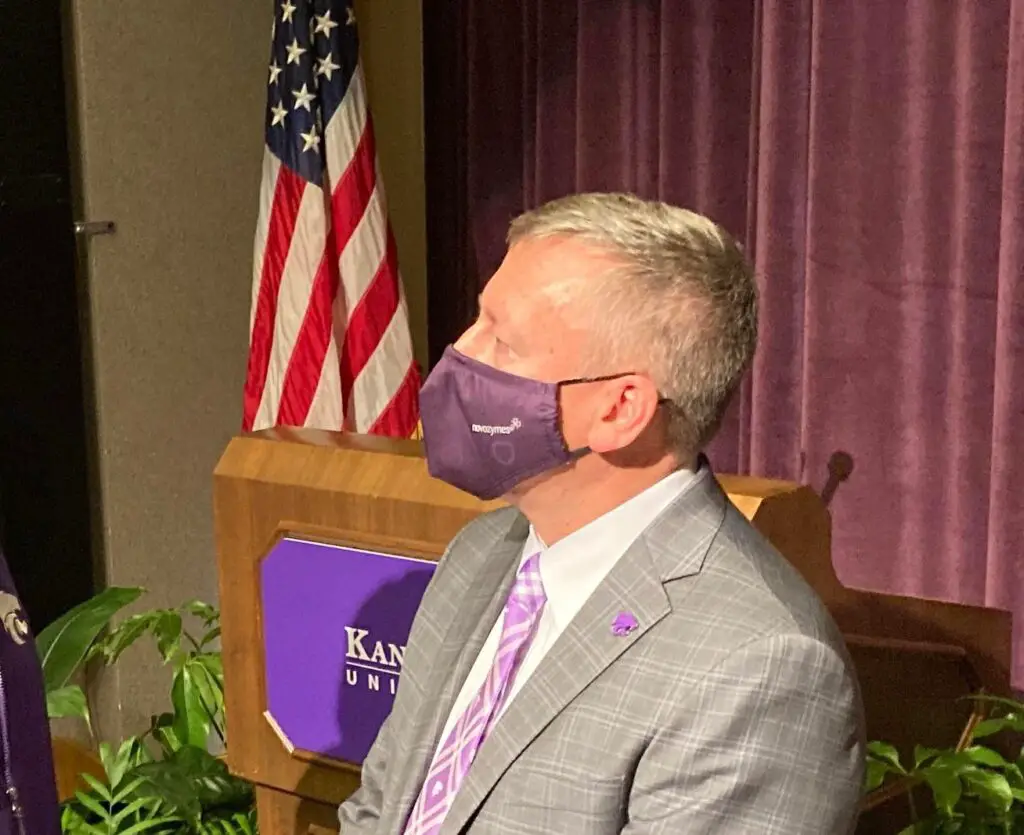 Dr. Richard Linton was greeted with fanfare and celebration Thursday as the Kansas Board of Regents named him the 15th Kansas State University President.
That's Cheyrl Harrison-Lee, Chair of the Kansas Board of Regents.
The 25-member search committee, chaired by K-State alumnus and retired BNSF Railway Chairman Carl Ice, who also serves on the Board of Regents, worked for the past five months on a nationwide search to find a successor to the retiring Richard Myers, who announced in May his intent to move on at year's end. Ice told a gathering Thursday at Forum Hall that Dr. Linton was the best fit for K-State.
"Throughout his career, Linton has worked with various segments of the food and agricultural industry, integrated applied research projects and outreach programs," he said.
This slideshow requires JavaScript.
Linton most recently worked as the Dean of the College of Agriculture and Life Sciences at North Carolina State, a position he's held since 2012. Prior to that, he was a department head for food science and technology at Ohio State. He's also worked as a faculty member at Purdue University, where he also was a founder and director of the Center for Food Safety Engineering and associate director of agricultural research programs. He received his bachelor's degree in biology, a master's degree in food science and a doctorate in food science from Virginia Tech. K-State will be his fifth land-grant university.
"I'm compelled in a land-grant mission, because it integrates research, teaching and extension and outreach. It's about making lives better for the citizens of the state," Linton told reporters Thursday morning.
While he won't officially begin his duties until Feb. 14, Linton acknowledges that the job title indicates the work begins immediately. One challenge, he says he's ready to tackle immediately is that of turning around enrollment, which has been in a downturn for several years and compounded by the ongoing COVID-19 pandemic.
"What are partnerships that we can put into place? What are programs that can be offered that are degree-receiving but also education that's provided to a student that expands from 18 to 24 to 18 to 64? I really look forward to looking at the strategy around that and trying to build it our, but we do need to make a difference and change the current trends around student enrollment," he said.
He also says he's prepared to work with state officials and finding solutions to overcome potential budget cuts, citing his own familiarity with up to 20 percent recurring budget cuts he faced the past nine years in North Carolina.
"It's a very important relationship. I believe our key is to develop programs that are meaningful to the state and programs that are relevant," he said.
Doing so he says can help businesses and subsequently the economy flourish.
As for his impression of Manhattan, Linton says he spent some time visiting in November and will continue to be a listener as he learns more about the university and the region.
"I've enjoyed learning more about K-State and I'm impressed with it's trajectory towards excellence and energized by the contagious passion, culture and connectivity to the K-State community," he said.
Linton shared some optimism for the future of higher education in Kansas during his speech Thursday.
"When it comes to building the economy and supporting the talent pipeline of students needed for Kansas businesses, well that's right in our wheelhouse. The more we can do for Kansas, the better supported we will all be," he said.