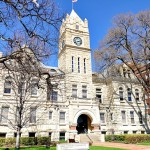 The former Fort Riley soldier charged with the shooting death of a Kansas National Guard member was sentenced in Riley County District Court Monday afternoon.
Daniel Parker (26) was convicted of  first degree murder, after shooting Frederick Beverly (21) in the early morning hours of January 1st, 2012.
Parker appeared in front of Judge David L. Stutzman.  Prosecuting Attorney, Barry Disney, began by making the state's request for the sentence, which would be 59 months for criminal discharge of a firearm, consecutive with a minimum of 20 years for first degree murder.  He said since Parker fired over 20 rounds, they were fortunate more were not injured.
Defense Attorney, Ron Evans asked the sentences run concurrently and 'not stack them on top of him'.
Beverly's sister, Sharlene Beverly was the first to make her statement.  She said she cried herself to sleep many nights and some nights didn't sleep at all.  She spoke directly to Parker by saying "you took a good person.  Nothing in this universe will bring my little brother back".
Beverly's father, Frederick Beverly Sr. was next.  He started by saying "we're  not here in anger for my son."  He mentioned how it feels as if a part of a tree has been cut off from his family, as he will never see a wife or a child from his son.  He stated the family would go on and would hold their heads high.
Lastly, Parker made a statement.  He began by saying, "First, I'd like to apologize to the family".  He said none of this should have happened, and bad things happened that night that he can't take back.
Judge Stutzman commented, "there is very little the court can say to add to what has been said, and nothing would change this".  Parker was sentenced to 59 months for criminal discharge of a firearm, which will be served concurrently with a life sentence for first degree murder.