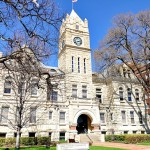 Day three of the Daniel Parker jury trial began with the continuation of the state's witnesses.
Parker is accused of the murder of 21 year old Frederick Beverly on New Years Day of 2012.
Prosecuting State Attorney, Barry Disney first called Alla Parker to the stand.  Alla is Parker's wife, and the couple has been married since December of 2009.
Disney ran through the events of the altercation that is said to have taken place after the ball drop, in the Last Chance bar in Aggieville.  Alla stated she was in the bathroom when the altercation broke out, but when she exited the bathroom, she could see a group of men arguing with her husband.
After the bar, the couple went home.  Alla went into the apartment, while Parker stayed in the car to talk on the phone.
Alla said she went to bed and woke up at four a.m. that morning.  She noticed her husband was gone and did not see his car in the parking lot.  She then called him, which Disney said was confirmed in the phone records.
Defense Attorney, Robert Evans started by asking Alla about Parker's "extreme erratic behavior".  According to Alla, Parker had changed after returning home from his second deployment.  She stated Parker was suicidal at times, fascinated with firearms, drank excessively and she'd wake in the middle of the night to Parker-who would be hysterically laughing for no reason.
She stated she tried to get him help multiple times, and she even called the army about his behavior.
During Disney's opportunity to cross-examine Alla, he asked her if it crossed her mind that Parker may have done something around four a.m., when she did not see Parker's car.  Alla stated, "because of his mental state, that was one of the things that crossed my mind".
As the state had no other witnesses, Judge David Stutzman informed the jury that the trial is running "significantly ahead".  Stutzman dismissed the jury for the day, and the trial will resume in court Thursday morning at nine o'clock, when the defendant will have the opportunity to present.  Council will then argue the case, and Stutzman guessed that jury deliberation will take place tomorrow afternoon.