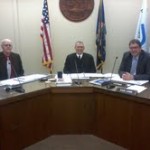 Progress continues to be made on the possibility of adding a public building commission to Riley County.  This was a briefly discussed item during Monday's Riley County Commission meeting, but the commissioners mentioned they need to wait for the planning board to decide on the matter during their upcoming meeting.
If the planning board decides it sounds like a good idea, commissioners indicated they may look into finalizing a formal document in the near future.
——————-
County Counselor, Clancy Holeman and Commissioner, Dave Lewis recently made a trip to Topeka for a discussion regarding Senate Bill 298.  The proposed legislation would eliminate the mortgage registration fee, which provides a significant amount of funding to the county's general fund.
Riley County, along with 100 other counties, sent a letter of opposition beforehand.
Commissioner Lewis spoke against the bill during the presentation.  Holeman mentioned he has never seen a better presentation, from all of the county officials, against a bill.
——————-
Commissioners approved two items during the meeting, the first of which was a regional preparedness employment agreement  presented by County Health Department Director, Brenda Nickel.
Human Resource Manager, Cindy Volanti presented the second item, which involved a health department administrative assistant position.
——————–
Fieldhouse Project Chair, Gail Urban answered a few questions previously asked by the commission.
Some involved-parking, locations, and possible economic development from tournaments.
Urban will return at a later date, and the commission will review whether to provide a portion of funding for the project, or not.