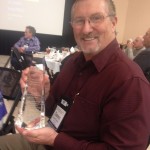 As KMAN previously reported, Riley County Noxious Weed Director, Dennis Peterson received the award for Kansas County Official of the Year last week.
Commission Chair, Dave Lewis read the nomination letter, the commission sent in, during Monday's county commission meeting.
Peterson said he was "shocked" that he won the award and shared some of his background.  Peterson was vice president of the Kansas Association of Counties Board from 2005-2006, and served as president in 2007.
There have been five Riley County individuals who have served as president on the board in the past.  This is a significant achievement, as the most any other county has had is two.
—————-
A plat and rezoning request was made by Harold Dean Jensen for his property on Halls Ravine Road near Randolph.
County Planner, Bob Isaac shared the request, as Jensen recently acquired a tract of land he wished to add into his plat.
The commission approved the request.
—————–
The meeting's press conference featured a downtown streetscape update, details on the K-State Research Extension elections (which began Monday and conclude on Friday) and information on deer accidents and safety.