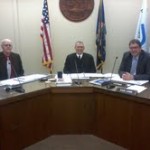 Although Senate Bill 298, which proposes the elimination of the mortgage registration fee, has not yet passed- Riley County Register of Deeds, Debbie Regester said, during Thursday's county commission meeting, she believes it will probably pass unfortunately.
Commissioners and Regester have been working, over the past few months, to convince legislators it  would not be good for county government.
Commission Chair, Robert Boyd asked Regester if the bill passed, would it impact the county right away?  She replied by saying the first two years would not show a direct impact, "but after that-yes".  As far as costs associated with the bill, Boyd also asked if the department would experience software problems as a result of the adjustments.  "I think we can adjust things within our software so we do not have to endure any costs", Regester replied.
Regester did however state she believes the department will lose time and money when they must reject numerous documents and mortgages.  She said the hardest part would involve the language within the bill that states if a mortgage is under $75,000, there will be a cap on how much the recording fees can be.  According to her, this would be a nightmare to figure out and keep track of.
———————
Two items were approved for the Riley County Health Department.  The first involved the accreditation readiness mini-grant MOA between the department and the Kansas Health Institute.  The second item was the Summer Feeding Program Agreement between the department and USD 383.
Both items were approved for Health Department Director, Brenda Nickel to sign, unanimously.