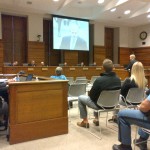 After a previous lengthy and somewhat heated law board meeting, a special meeting was held to continue discussions Thursday.  Riley County Police Director, Brad Schoen began the meeting by sharing some statistics, including the numbers of calls for service.
There were 219 calls for service from Rusty's and Kite's, according to Schoen.  The owner of those bars, Rusty Wilson claimed these statistics were not fair, as his bars were grouped together, while the other bars listed were not.
A majority of the meeting revolved around a video, which Wilson had referenced during the previous law board meeting, involving a police officer moving a beer in front of a young girl, and taking her to the Aggieville police sub station for questioning.  Wilson is the one who took the video, and at the end you can see and hear Wilson trying to enter the sub station.  The officer can also be heard telling Wilson he does not have the right to be there, and asks him to leave.
Wilson first commented on the video, and said it's clear he moved the beer towards her.  He also did not agree that he could not sit in on the questioning.
The RCPD officer in the video, Ryan Doehling stood up to tell the board what happened that night.  He explained that he did in fact take the wrong beer, as it belonged to someone else, but the girl had pushed hers away when she saw him coming.  He mentioned the girl admitted, in her questioning, to consuming beer, and there was no ultimate citation issued.
Wilson had also made previous comments about the Riley County Police Department being out for him, "to make him look bad".  Doehling responded to this by stating, "if I was really out to get him or if I wanted to shut him down, I would have cited him when he tried to enter the sub station for obstruction of the legal process."
Various law board members stated they did not see a problem with the police department, or the officers actions that night.  However, It was proposed that there are three solutions to this issue.  First that a regular report (of alcohol-related incidents) be constructed by the police department, secondly that it be brought to the law board for review, and finally that they have rotating meetings with citizens about these reports.
This idea was formulated into a motion, which was approved on a 6-0 vote.