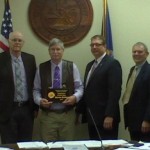 Riley County Environmental Health Specialist, Steve DeHart was recognized, during Monday's Riley County Commission meeting, as he recently was awarded the "Sanitarian of the Year" award by the state of Kansas.
Commission Chair, Dave Lewis presented DeHart with his plaque.
"I was very surprised to receive this", DeHart commented.
——————–
The 2014 budget book is finally complete.  The 107 page book includes colorful charts, detailed breakdowns of the various funded departments, and figures from past years.
Budget and Finance Officer, Johnette Shepek said she will begin the process for the next budget in February.
————————–
Several upcoming events were highlighted during the meeting's press conference:
National 4-H Week-October 6-12
Okt-FLU-ber Festival-October 10th
Wolf House Museum Open House-October 13th
Riley County employee training day-October 14th
—————————
Various department heads, including Public Works Director, Leon Hobson and County Counselor, Clancy Holeman, gave routine department updates.