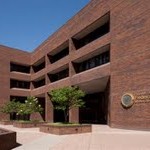 A Manhattan man has been sentenced to two years of supervised release in connection with a fatal arson that occurred more than a year ago.
Gavin Hairgrove is also to serve home confinement for six months, following his sentencing Wednesday in U-S District Court.
Hairgrove pleaded guilty to being an accessory after the fact in the February sixth, 2013 fatal fire at a Manhattan apartment building, which resulted in the death of Vansanta Pallem. During his plea in December of last year, Hairgrove admitted to being present when three co-defendants talked about what to do to keep the Riley county Police department from searching an apartment where two of the co-defendants lived, in connection with an earlier robbery at a convenience store in Manhattan. One of the co-defendants later poured gasoline in a hallway of the apartments and started a fire to create a diversion.
Sentenced earlier in connection with the case were Frank Hanson of Manhattan, who was sentenced to 42 months in the robbery that preceded the attempt at a diversion.  Dennis Denzien was sentenced to 20 months for his involvement.
Longer sentences for the actual arson went to Patrick Scahill for 360 months and Virginia Griese for 240 months.