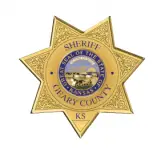 A Junction City man has been sentenced in connection with an animal cruelty case that received a lot of attention around Thanksgiving.
William Lemieux was sentenced in Geary county district court to one year but granted probation for 12 months. Lemieux is also to pay costs, not to have contact with his girlfriend, is not allowed to have pets, and must obtain a domestic violence assessment and drug and alcohol evaluation and to follow all recommendations.
Lemieux was arrested in mid-November after his girlfriend found her cat dead in a bag placed in a trash bin near their home. Assistant County Attorney Michelle Brown said a veterinarian later examined the cat's body and found three cigarettes and a cotton swab jammed in its throat.
Brown was obviously disappointed in the Judge's sentence, asking that probation be denied. Brown argued there was no presumption for probation, that this was a crime of domestic violence and he had not obtained a domestic violence assessment, and that he has 14 prior convictions and an outstanding warrant for Sale of Drugs from the state of Nevada.