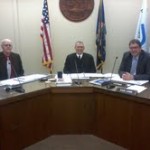 A bid opening for new radios was the first item on Thursday's Riley County Commission agenda.  The radio purchase was approved during a previous commission meeting, and three bids were submitted for the project.
Ka Comm Inc. submitted two separate bids, each containing four different prices.
100 watt P 25-$2,895              50 watt P 25-$1,487             try band portable-$4,411.75            portable P 25-$1,468
100 watt P 25-$3,607             50 watt P 25-$2,356.25       try band portable-$2,808.50           portable P 25-$1.980
TBS Electronic, of Topeka, submitted one bid for the fourth item-a portable P 25 radio at $2,026.
All of the bids were approved for staff evaluation and recommendation.
An addition of a voter repeater was also approved for PD-1.
——————-
Information Technology/GIS Director, Robert Nall requested approval for a network backup system.  He shared details of how much data is stored on a daily basis, and indicated the register of deeds office and the public works department store data quite frequently.
Register of Deeds, Debbie Regester and Public Works Director, Leon Hobson both contributed $50,000 out of their budgets for the effort, and Nall contributed $60,000.
The commission approved of this $160,000 project.
——————-
Hobson had an item on the agenda for his department later in the meeting, involving the University Park sewer cleaning and videoing project.
This was a change order, as many parts of the project originally budgeted did not take place.  The order featured a decrease in funds needing to be put toward that project for that reason.
The commission approved the item after minimal discussion.
——————-
Two items were brought to the commission by Health Department Director, Brenda Nickel.  The first of which involved an agreement between the department and EnVisage Consulting Incorporated for an $11,000 year long project.
The second item involved the commission reviewing a draft notification letter to providers for suspension of the department's primary care services.  This would go into effect on November 1st.
The commission approved both items.
——————–
With the Columbus Day training in the books, the commission took the time to review this year's event.
The training day was held at the Farm Bureau building for all county employees.
Different commissioners had different opinions on the speakers.  Some were also hesitant to include the breakout sessions in next year's plans.
All in all, the commission agreed the training was very valuable, and the end training surveys proved 70% of employees felt the same way.
——————–
The commission held an afternoon legislative conference after their commission meeting, where they discussed several topics including property taxes.