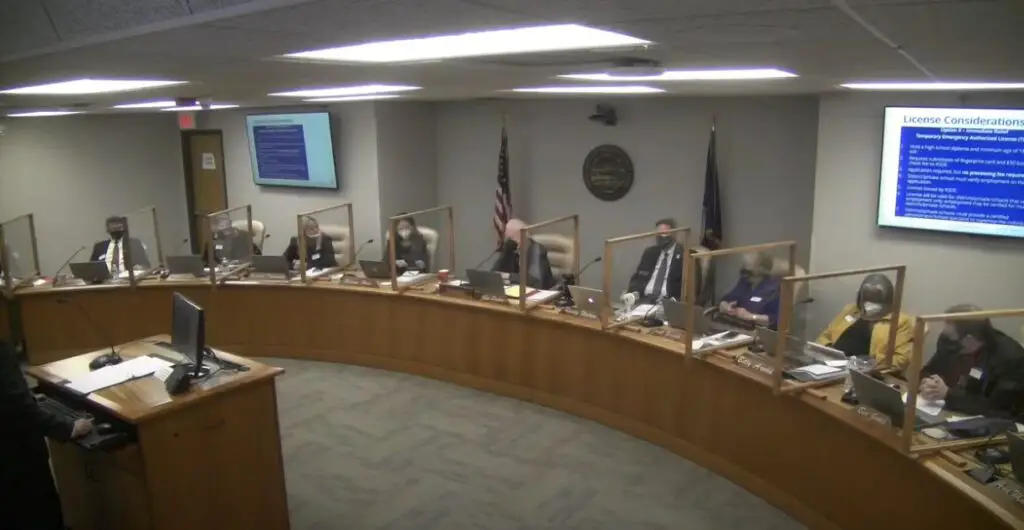 The Kansas State Board of Education on Wednesday unanimously approved an emergency declaration that allows any individual meeting certain qualifications to apply to be a substitute teacher.
The action is aimed at helping solve the substitute teacher shortage caused by the COVID-19 pandemic. Individuals over the age of 18 can apply for Temporary Emergency Authorized License (or TEAL), good through June 1. After that date, more rigorous requirements will be necessary.
District 2 board member Melanie Haas, of Overland Park, says she's heard angry comments from some educators who say they felt devalued by this proposition.
District 6 board member Deena Horst, of Salina, supported the plan, despite some concerns with the language.
Usually, the state mandates 60 semester credit hours from a regionally accredited college or university in order to obtain an emergency substitute license. That minimum requirement has been temporarily removed.
Anyone who applies must be 18 with a high school diploma, have a verified employment commitment from a district or system, be fingerprinted and pass a background check and submit a completed application to the Kansas State Department of Education.
The rise in cases has taxed local districts in Riley and Pottawatomie counties, with a number of teachers and staff out on quarantine or isolation. College Hill preschool and the USD 323 preschool in Westmoreland both remain closed this week due to a surge in cases. Both plan to reopen on Jan. 18.
The state board plans to re-evaluate the situation at the end of the school year.