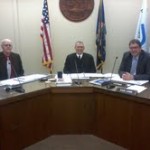 A work session was held to discuss how to proceed with the recent vacancy of the Information Technology/GIS position.  Previous Director, Robert Nall, left the position in April to pursue other employment and Dawn Shoffner is standing in at interim director.
During Monday's Riley County Commission meeting, Human Resource Manager, Cindy Volanti informed the commission that twelve qualified individuals have applied so far-but some are more qualified than others.
Volanti asked commissioners how they wanted to proceed, and whether to continue advertising the position.
Commission Chair, Robert Boyd said to stop advertising for the time being, until they can review and discuss the current applicants.
Commissioners will look over applications, and discuss them, in the coming weeks.
————
Shoffner, with the help of Network Administrator, Cory Meyer, presented the new paperless software to commissioners, and provided a training session.
Although portions of the system did not appear to work the way Shoffner hoped, commissioners were able to view several features and test them.
Boyd commended Shoffner and their team for the laptops they picked out for commissioners.
All commissioners seemed to agree that the system will take time to get used to, but it will be efficient.
————
One bid was submitted for the asphalt bid opening.
Shilling Construction submitted two alternates within their bid
alternate #1-bituminous $52.60/ton                       asphalt pavement milling-$1.30/yard
alternate #2-bituminous-$56.75/ton                      asphalt pavement milling-$1.20/yard
The company also submitted an addition of-one ton of pavement patching for $170/ton.
Commissioners approved the bid to more forward for staff evaluation and recommendation.