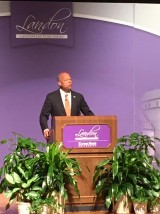 "The new reality is that our homeland security efforts must involve the public at large too. In government, we are often afraid to ask the public for help."
This was one of many main points made by US Secretary of Homeland Security, Jeh Johnson during his speech as part of K-State's Landon Lecture Series on Wednesday morning. Secretary Johnson spoke about the "new reality" today's national security officials face in directing national efforts for a constant and evolving terrorist threat to an audience including key KSU administration and state politicians.
The Department of Homeland Security was created in 2002 in the wake of the September 11th tragedy. Currently, the DHS is the 3rd largest federal department, employing 225,000 people with an annual budget of about $60 billion. Secretary Johnson made it clear during his lecture that tracking and destroying national security threats like ISIS, or ISIL in their base countries is on the forefront of the DHS's agenda. He also urged the cooperation of Congress and the vigilance of the public, as our current terrorist threat is more decentralized and more complex now than 15 years ago.
Although Secretary Johnson spoke of the massive support the DHS needs to ensure a safer homeland, he was reassuring that the department is not without clear goals.
"We will continue to hunt for and take the fight directly to the terrorist organizations who threaten the United States at the places where they hide, where they plan and where they train."
For video of Secretary Johnson's lecture in Forum Hall, visit k-state.edu/landon.