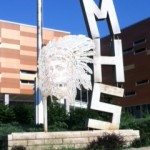 Manhattan residents needing to enroll their children for the new school year can do so at the Manhattan High School west campus until 7 p.m. Wednesday.
The district's central enrollment Wednesday allowed parents to enroll all of their children at one time, no matter what grade they will be entering.
While at central enrollment parents could also get their children's vaccination done, pay book fees, get parking permits and order year books.
If parents can not make central enrollment, all school offices will be open to register their child Monday.