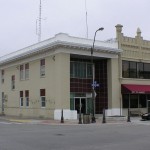 Wamego's 2014 budget was approved. At Tuesday's City Commission meeting, Mayor Bob Morse opened the Public Hearing to answer taxpayer objections to the proposed use of funds and the amount of ad valorem tax for the 2014 budget. As required, the budget was published, along with the notice of hearing. With no questions from the public, a motion was made to adopt the 2014 City of Wamego budget as published. The vote was unanimous.
In other business, Reese & Novelly's Michelle Morton and Carol McCulluh went over the City's 2012 audit, which showed no material weaknesses, and the City's reports are in good shape. The audit was approved as presented.
A twice-tabled rezoning issue was back again. At Tuesday's Wamego City Commission meeting, City Manager Merl Page went over the proposed ordinance to rezone the property at 309 Ash from Residential –H to Industrial – 2.
According to Page, the Planning Commission has approved the rezoning, but some of the Commissioner's had a problem with rezoning due to the reason for the application. This issue was tabled several times, and Commissioner Bill Ditto made a motion to send the request back to the Planning Commission for further study. Page made it clear the Commission is required to specify the reason for sending it back. It will come back for a vote at the next Commission meeting.
In other business, the July sales tax figures show the City tax up 4.61%, with the County-wide tax down .6 percent for the same period a year ago.
Wamego will be changing its 4th of July carnival attraction. At the last City Commission meeting, City Manager Page announced that Ottaway Amusements made a business decision to not renew their Carnival contract for next year. Page said Ottaway was moving to a different venue during the July 4th celebration.
Page said he had an opportunity to visit and meet the principals of Evans-Midland Empire Shows of Tracy, Missouri. He said this has been a family business for the past 42 years, and it was a clean carnival. He said based on what he saw, he would recommend approval of the one-year contract that was approved by City Attorney Jake Pugh. Approval was unanimous.