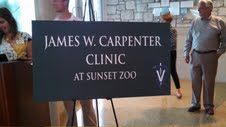 Wine, food, and friends.  Those are some of the selling points for Saturday's event, but that's not all that comes from the Sunset Zoo's Wine in the Wild.
During the VIP reception, the new vet clinic was official unveiled and a special dedication was made.
Dr. James W. Carpenter, Professor of Zoological Medicine at Kansas State University, had a surprise set for him by the zoo staff and those he works with as the new facility has been dedicated to him.
After the VIP reception, Carpenter was among those giving tours to attendees on the updated vet clinic at the zoo and explaining what each area will be used for.
Though the vet clinic was  a major component of Saturday's event, Ella Casey, Marketing/Development Officer at the zoo, also made known of a special donation to help renovate the tiger exhibit.  Though plans are still in the very early stages there will hopefully be news next year on where things will be going.
Mark Ellner, President of the Friends of Sunset Zoo, explained in an interview with KMAN they have had to begin caping the event at 500 people as there is much interest.
With the event beginning at 6 pm for VIP, general admission tickets made their way in at 7 pm, with the event ending at 9 pm.