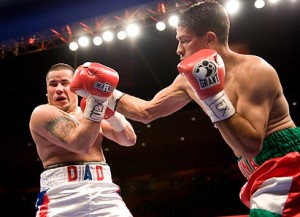 The 4th Annual Fight for Charity event will happen Saturday, August 27th at the National Guard Armory in Manhattan.
Boxers from Kansas, Oklahoma, Nebraska, and Missouri will come to Manhattan for the USA Amateur event including professional boxer David "Strictly Business" Medina.
SeniorAirman Daniel Logan US Air Force from Tinker AFB will be traveling to compete to help raise money for FFC 2011 Hope for Manhattan Kids.
He is matched up with a boxer from Junction City,  Ivey Nixon.
Both are open boxers which means they have over 10 bouts and impressive records.
Many activities for kids will be on hand including the US Army National Guard's 100' Inflatable Obstacle Course, a Velcro Wall, a Disney Playhouse, a Climbing Wall, Laser Tag, an  Inflatable Boxing Ring, a "Punch" Tank, concessions, and more.
Doors open at 11 a.m. for the Free Family Fun Day and the start of the boxing event begins at 4 p.m.
Proceeds from the event will go to benefit Hopeful Tomorrow which is a national children's charity.
For more information, you can contact Lorissa Ridley-Fink at 785-341-1708.