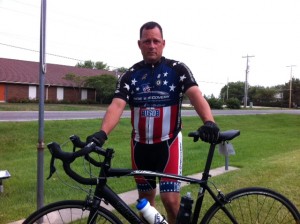 A different sort of mission faces Staff Sergeant Gerald Peckham, most recently of Fort Riley, who is participating in the "Road 2 Recovery" Bicycle Ride. The ride involves wounded warriors as participants and was put together last year. This next ride begins at 9-11's Ground Zero and ends at the Pentagon. Peckham tells KMAN he is raising money toward the effort, with all participation paid for out of his own pocket. He says even a dollar donation would help.
Peckham talks about the importance of remembering 9-11–which is connected with this next event. Peckham adds 9-11 has led to a lot of wounded warriors, whose lives have changed dramatically.
He says he rode last year, with this being his fourth event, and it helps him both mentally and physically. He speculates it even has saved lives of wounded warriors.
For more information on how to donate to Staff Sgt. Peckham or other wounded warrior participants, you can log onto ride2recovery.com.