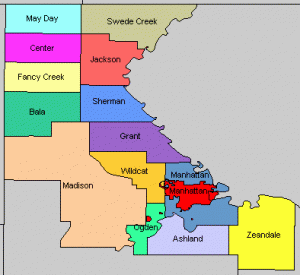 The Riley County commission gathered Monday for a public hearing to discuss redistricting
The turnout was relatively small, but those who voiced their opinions expressed concern regarding the treatment of voters in the rural portion of Riley County.
" I believe that some of my district should have some county," said commission chair Karen McCulloh, who's district does not extend beyond the borders of Manhattan. "I think it's good to be balanced and for each commissioner to have a piece of county and a piece of city."
The purpose of the hearing was to examine available options that could be implemented to balance out Riley County's voting districts. Commission chair Karen McCulloh says the current imbalance in the voting districts can be attributed to the transient environment in Riley.
McCulloh outlined the next step in the redistricting process, saying that the commission would hold another public hearing in the future.
The commission did not take any action on redistricting as commissioner Alvan Johnson was absent during the hearing.