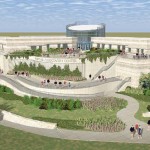 Pricing for the Flint Hills Discovery Center is one of many items on the minds of city officials for Tuesday night's City Commission meeting.
After some time spent researching prices of similar venues in the area, the city shared with KMAN what those would be when the center opens in April 2012.
Rates for adults are nine dollars, seniors are seven dollars, children at four dollars and school groups at three dollars, meanwhile children under two years of age are admitted for no charge.
For information on rental fees for facilities and meeting areas inside the Flint Hills Discovery Center, you can contact the City Manager's office at 785-587-2404.