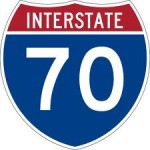 Update:  A Junction City man died in a two vehicle accident on I-70 that closed eastbound lanes of the highway early this (Thursday) morning.
Kyle Junghans, 39,  died in the crash at mile marker 324. Thomas McCoy, 42,  of Manhattan was in the other vehicle involved and was taken to the University of Kansas Hospital in Kansas City. McCoy is listed in serious condition (Friday morning).
According to the Kansas Highway Patrol Junghans was westbound on I-70 in a '98 ford ranger when he lost control, left the roadway, and crossed the median. His Ranger then struck a 2007 Ford focus driven by McCoy.
The accident reportedly occurred just before 6:30 a.m.
(earlier reports follow)
The Kansas Department of Transportation is confirming the  closure of I-70 KMAN news first told you about Thursday morning.  According to K-DOT, at 7:00 a.m Thursday, all lanes of eastbound I-70 were  closed at exit 313 to K-177 due to a multiple vehicle traffic incident.
UPDATE: However, all lanes of eastbound I-70 at exit 313 are NOW OPEN to all traffic. The traffic incident has been cleared and traffic operations have returned to normal.
KMAN news has confirmed there was one fatality in the crash, but no further details are available at this time.