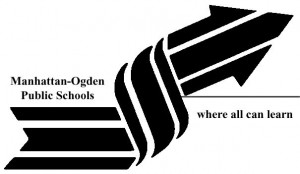 At the Manhattan – Ogden school board meeting, many topics were brought to the table.
First was talk concerning the current redistricting map.  Dr Robert Seymour, Associate Superintendent, gave yet another update as to where the redistricting committee is looking.  He says they will continue next year at their January 5th meeting and has hopes to bring a plan to the board at their January 18, 2012 meeting.
With redistricting and with the national budget like it is, concerns about Fort Riley were expressed.  John Armbrust, Executive Director Governors Military Affairs Council, gave a report concerning the possibility of a BRAC and the loss of Fort Riley to the community.  Though, he doesn't see Fort Riley going away, there may be decreases that should be considered when making decisions about the school system.
There was also some emotional expressions made towards the Manhattan High School Professional Learning Time.  Board member Pete Paukstelis expressed his disapproval about the whole situation.  There was talk about the need for more concrete data to make sure this program is worth the funding.
Lastly, construction and change orders were quickly gone over.  All change orders passed anomalously, except for the change order for the Lee Gas Line which was taken off the agenda.