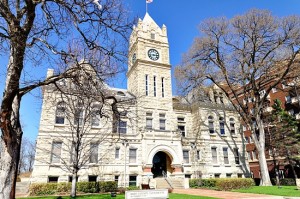 A 19-year-old Manhattan man facing murder charges made his first appearance in Riley County District via webcam on Friday.
Michael Blake Layne was one of four arrested earlier this week due to his involvement with the homicide murder of  Steven Freel, 31,  of Manhattan on Wednesday.
Layne faces the charge of first degree murder with his bond set at one million dollars, he will be in court next on Tuesday, December 20th in Riley County District Court Division 2 in front of Magistrate Judge William Malcom.
Others involved with the murder include  Domingo Soto, 41,  of Manhattan charged with conspiracy to commit first degree murder and  Devin and Tevin Bruce, both 19 and of Manhattan, who face both burglary and conspiracy to commit burglary charges, as well as obstruction of the legal process and aiding a felon.
Upon arrest for murder charges, it was revealed that Layne was involved with an aggravated robbery day the before the murder.