Members of the Transportation Security Administration unveiled the long-awaited 9/11 commemorative artifact at Manhattan Regional Airport on Thursday.
The monument is is stainless steel circle that displays the American flag with nine stars and 11 stripes with the words 'We Will Never Forget' inscribed on it.
This project was several years in the making. In addition to the steel circle, the monument also features an eagle grabbing a small piece of steel taken from a beam that once supported the World Trade Center.
"Over the space of a couple of months we were able to obtain a court order because the artifact was still part of the criminal investigation," Keith Osborn, Kansas Federal Security Director, said. "That led to the release of a steel beam that was about 7 feet long and weighed about 800 pounds."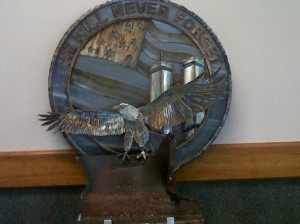 Once the beam was acquired, Osborn contacted B&B Metal Arts located in Hoisington, Kan., to handle the design and construction process.
"When TSA contacted us to make this, I was looking at a stainless steel eagle in my office," Bruce Bitter, owner of B&B Metal Arts, said. "I knew then that I wanted to somehow incorporate an eagle into the design."
Now complete, the monument sits just inside the south doors at Manhattan Regional Airport.
"There are five (or so) commercial airports in the state that received a portion of that beam from the world trade center," Peter Van Kuren, Airport Director, said. "Manhattan Regional is one of those lucky few."