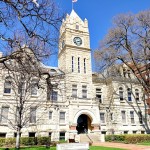 A hearing to Determine whether a Manhattan teenager should be prosecuted as a juvenile or adult in a first degree murder case has been moved to February 2nd and 3rd of next year. The hearing for Cole Drake, which had been set for next week,   has been postponed so that the written report documenting the findings or opinion of an evaluation conducted on Drake can be completed.
According to Riley County attorney Barry Wilkerson, the evaluation process has taken longer than either, the defense, the state or the court anticipated. However in light of the charges, and potential penalties involved, Wilkerson says it is imperative that the defense, and the state have the opportunity to review the written report in advance of the proceeding and the court have available all relevant information.
Drake was charged in a first degree murder and aggravated burglary case which involved the April shooting death of Manhattan High student, 14 year old Tyler Dowling.