The Flint Hills Area Transportation Agency will be operating on Fake Patty's Day in an attempt to discourage drunk driving.
Anne Smith, aTa bus director, says they plan to start with two vehicles during the day around noon, but adds that more vehicles will become available as night falls.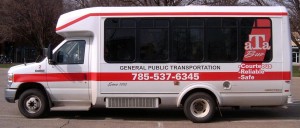 "We'll run two shifts of employees," she said. "And we'll run all day until three in the morning."
Smith estimated that aTa bus provided just under 1,000 rides on Fake Patty's Day in 2011.
Fake Patty's Day this year falls on March 6.